Wind Drift Farm
Wind Drift Farm is a small family farm on 55 acres, located in the rural upstate New York in the town of Poestenkill in Rensselaer County.
We have been involved in farming since1986. We started out raising purebred Arabian horses and operating a horse boarding facility.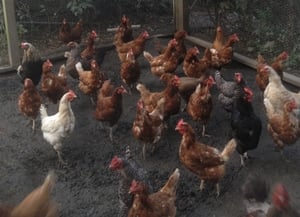 We have since added poultry, greenhouses, and vegetables to our farming endeavor.
We offer farm fresh eggs all year long from happy, healthy chickens raised with no antibiotics or hormones and fed grain from a local farm. Our chickens never see a cage.  We have a variety of chicken breeds and, as a result, our eggs come in various shades of brown, blue green and white.              
In the spring, we grow hanging baskets and annuals in our greenhouses.  By summertime, we have fresh vegetables including vine ripened tomatoes, beans, squashes, peppers and onions.  As the holidays approach we offer fresh balsam wreaths in a variety of sizes, as well as Christmas trees.
All that keeps us very busy.  But the reality is that the variety of products we can produce for customers is limited.  And that's true for many farmers.  Growing a little bit of everything is very time consuming and inefficient.  It makes much more sense for farmers to work together in planning, producing, marketing and delivering food to customers who want healthful food products from a known source.
Our Home Delivery Food Hub
Our vision is to offer a variety of farm fresh products to areas customers in our area with busy schedules.  We know there are many health conscious people who have difficulty getting to a farm stand or a farmers market.  As a result, they end up buying inferior supermarket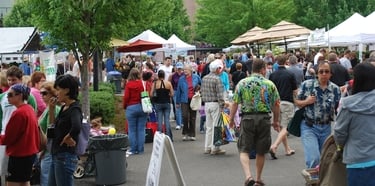 products that were raised somewhere distant, often thousands of miles away - or even from China!  No one in the grocery store can vouch for those products, since no one has any information about them.
Our solution is a Home Delivery Food Hub - A Farmers Market on Wheels -- home delivery of a variety of farm products, all produced locally by ourselves and other local farmers and artisan vendors.  For every product we offer for sale, you will know EXACTLY where it came from.  And on our Vendors page, you can learn a bit about some of our vendors.
Farmers Markets, like the one pictured here, can be wonderful.  But let's face it, they take up a lot of time every week for customers and for farmers.  Now you can view our inventory, choose from what's available, and order online for delivery every Saturday. 
If you think you may be interested, please click the Join Our Newsletter button on the left right now, before it's forgotten.  That way, you'll be kept informed, even if you don't order right away.  Our hope is that you will become our customer to enjoy the benefit of having locally produced food products delivered directly to your home.